The Search Engine Giant announced a secret project called "Google Florida update." The company official team was working on a secret project to improve the search engine for a modern audience. Google Florida update is rolling out in 2019, and it isn't a punishment update.
Danny Sullivan of Google announced that Google is taking a futuristic step to improve the Search Engine with an algorithm update. It isn't a generic update or a minor update, but a major improvement occurred a decade ago.
From several credible information, the Android OS backed company focusing on updating the core elements of the BOT to today's standards. Of course, it will impact the rankings, traffic, and income as well. The digital marketing world couldn't get back on the track after "Neural Matching" occurred last year.
What is Google Florida Update?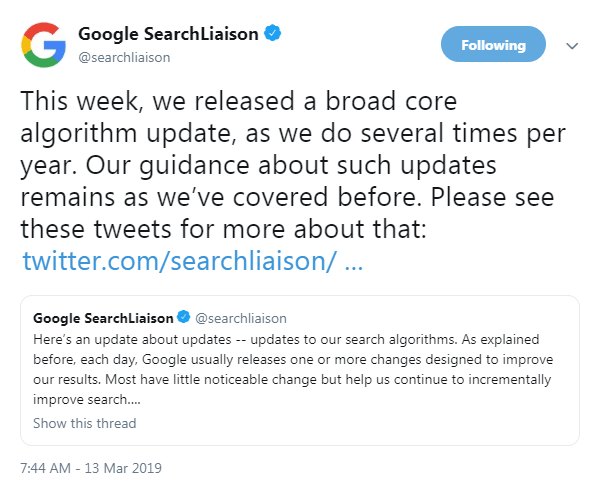 Millions of websites founders are freaking out because they might get another major ranking hit. Several people could not wake from the trauma of the last algorithm changes. A site with 100,000 hits dropped to 10,000 hits per month.
There is nothing to worry about it because the new algorithm doesn't target a specific website, niche, category, or an element. The update consists of BOT update, which will help Google BOT to understand the content and pages of the website properly.
You can take Android OS for example, and the official team releases a new update every year. Site administrators can sleep with relief as the new Algorithm update adds more features recognizes quality pages and posts.
The "Google Florida update Broad Core Algorithm update" rumours are spreading at a faster pace, and it does seem like smaller niche based sites might get hit. No one can confirm the rumours because the Algorithm did not impact any site yet.
The Google BOT requires a futuristic update so that it can support the latest technology and developments. The integration between machines and portable machine require a good combination of software and hardware. The Google Florida update 2019 is the engine.
How to boost your Traffic using this update?

Millions of digital marketing experts are seeking advice from the community and professional groups. No one was able to decrypt the major changes in the engine, and uncertainty can impact several sites performance.
Google Business is based on Content QUALITY + QUALITY Links + Website QUALITY. Quantity is another debate, but quality beats every element in the segment. The combination of Content QUALITY + QUALITY Links + Website QUALITY and Quantity can bring the Increase traffic and stable rankings.
Professional TIPS: "Expect the unexpected."
"Futuristic preparation is key to success."
Improve website loading speed at any cost. You cannot leverage high-rankings until or unless you have a responsive site.
Update old articles immediately so that Google Search Engine can gain confidence. Updated information for today's standard is an important aspect.
The Search Engine Giant is focusing on spam links and manually built links.
Avoid overusing words and improve the grammar of content.
DO NOT UPLOAD copied images and copied content at any cost.
Uniqueness is a master element of high rankings.
Conclusion
Google Florida update might not impact high authority websites and blogs, but the small creators have to suffer the consequences. Google News sites have to keep heads up on the algorithm update, but there is no strong proof on it. Google company does not reveal true intentions to the world to counter spammers and low-quality content producers.