Google Malicious Content is a serious threat to the entire community, and it can lead to several problems for site administrator and visitors. The search engine giant cannot ignore such a site using company based products such as Adsense/display advertisement program.
The company protects the searchers and advertisers from online threats by discouraging the site from search results. It is a threat to the site and visitors at the same time, and users must remove it immediately.
Malware Attack: What is Malware?
The virus is a popular term to describe the online threat, and Malware is another dangerous online threat effects millions of people around the people. The threat intension varies from hacker to hacker, but the outcome remains the same. Malware injection does not impact the performance of the site, and they go undetected.
The threat implants codes that redirect to another site or steal information from the site such as Credit Card details and other details.
Why "Google Malicious Content" happens?
Search Engine giant aiming to protect the searchers from hackers, privacy invasion and phishing. The company does not have any intention to degrade the site profile or damage its reputation. Your website targeted by the Hackers, Phishing, and Privacy Invasion, and the administrator does not know of it.
Invader must have tampered with HTML file (Index.html) or PHP files. Invaders do not mess with the site, and then edit the files to replace with their codes.
Your website redirects to another random site, and it is one of the common invasions occurs in HTML based sites.
All of a sudden, you have iframes or JavaScript or flash .swf files appearing somewhere in the site.
So, how to get rid of it? Keep reading the article to remove the affected files from the system.
Remove Threats via cPanel Virus Scanner
You can get rid of the affected files from the system using the inbuilt scanner in cPanel.
Step 1: Login to the cPanel control panel.
Step 2: Type "Virus" in the search bar and click on "Virus Scanner."

Step 3: You have several options in the feature, and begin with "Scan Entire Home Directory." Make sure to scan everything available in the options to get rid of the online threats.

Step 4: The virus scanning begins, and it will look for Virus, Trojans, Malware, Adware, Affected Scripts, and more. The algorithm designed to search for known threats and it does not impact the unknown threats.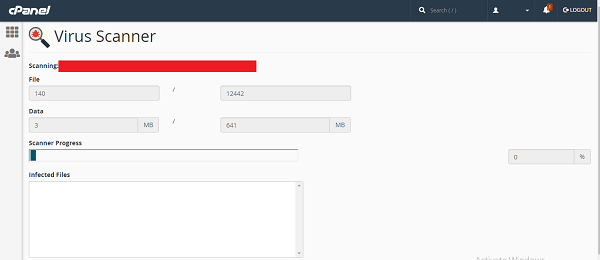 Step 5: A notification says that there are no threats in the website directory.

Check the Google Webmaster for affected pages.
Bottom Line
In such cases, contact the developers or designers of the theme, HTML website, and design. You can change the website theme or template or design to avoid such errors on your site.