Build an Online presence is important for an individual or brand for sales and generating followers online. No one can deny that a good following improves brand awareness and it increases the sales as well. Millions of people are investing a lot of money on Facebook, Twitter, and Instagram to gain more followers.
Today, I am going to show you to gain more followers online by investing time. Yes, you don't need money, but individuals have to invest a lot of money. Anyone can try these methods and gain massive followers in a year or so. Keep in mind that it won't get attention from at least one or two months, but you will pick up a pace after a certain period.
1. Instagram for build an online presence
I prefer Instagram as a first place for an individual to promote the brand using Digital marketing. However, do not start with promoting stuff because Instagram has teenagers and children's on the platforms. Nobody surfs or follows a profile that does not have interesting content.
I recommend the users to post creative photos online and make sure to right tags to reach a wider audience. For example, the below snapshot profile has over 30,000+ followers on Instagram within a year.

The individual posts bodybuilding images and workout photos on the profile every day. No one expected that he would get 35,000 followers without investing a single penny. It is one of the major reasons why Dwayne Johnson has 100+ million followers.
Create real individual photos more likely to convert into a loyal fan base.
Tip: Creative real photos (not stock images) + right tags.
2. Twitter for build an online presence
One year ago, I realized that millions of people love to watch videos on Twitter than tweets. Yes, I mean it! I tried a trick to test out, what works to reach more people on Twitter without investing a single penny.
I started to post gameplay climax videos with an average length of one minute, and it received well over 1000 views without any issues. The Twitter account did not have more than 100 followers, and the response is very good.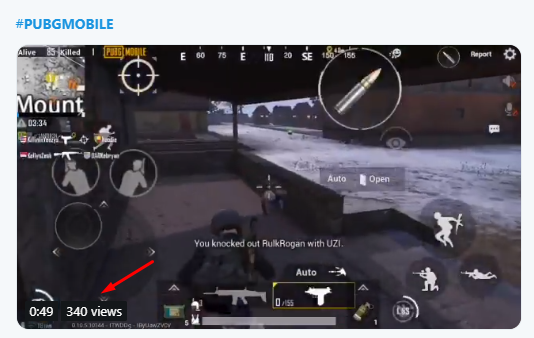 If you keep repeating the process every day, then you can gain massive followers within no time. Remember, you can post 100 videos on Twitter to reach a wider audience, but you only need one video to gain massive followers.
Tip: A short video with an average length of 1 minute + right hashtags.
3. Facebook for build an online presence
Facebook is an excellent platform for viral a video to the masses. Yes, images no longer convert the way a video is converting into followers. If you want the masses to love the content and follow your fan page, then a video can get the job done.
No one can cares if you are using copyright content or music and everyone in the feed news looking for interesting, unique, and creative videos. I will tell you what I did to gain a massive reach on Facebook. Make a unique video from your end and join multiple groups that allow sharing a video, then upload the video on your page.
Share the video to joined groups, and it will reach a massive amount of relevant Facebook users. Out of 100 videos, at least one video will get massive hits across the platform. Keep posting for that one moment because Facebook can change the direction by suggesting it to others.
Tip: One good video + share in various relevant groups. FB allows 35 shares a day per account, so you can use two accounts for sharing it to a larger amount of groups.
Conclusion
The Facebook platform seems easier to gain followers for a Livestream, so if you are planning to live stream on FB, then you should try sharing technique. Let us know what do you think about the building online presence in the comment section below.