NameCheap is a Web Hosting company cum Domain Registrar Company. It might come as a surprise that NameCheap Company started to offer VPN (Virtual Private Network) services to the masses. Yes, you can start using the premium version of VPN offered by NameCheap at the lowest cost of $5 per month. Of course, they will bill the package for three months to yearly.
What is a VPN?
VPN stands for Virtual Private Network comes as an Android, iOS and Blackberry app. VPN also offered for the desktop environment such as Windows, macOS and Linux based computers as well. The VPN is a server located physically in a country far from the original IP address of the user. Yes, VPN is a server with an actual IP address, and you are paying to use it.
A VPN job is to mask the user original IP address, location, browser history, and more. No one can trackback users location, and Government cannot keep a trace of user's activity. The services exist in the world because it maintains the policy of privacy and voice of speech.
In many countries, citizens restricted to view a certain website; they cannot visit foreign news portals and voice opinion in international community forums. VPN maintains the anonymity of the users and protects the users from Hackers, Privacy invaders, and Government surveillance.
Namecheap VPN is working or not?
Checking the status of NameCheap VPN is very easy and does not require any extra tools to test it.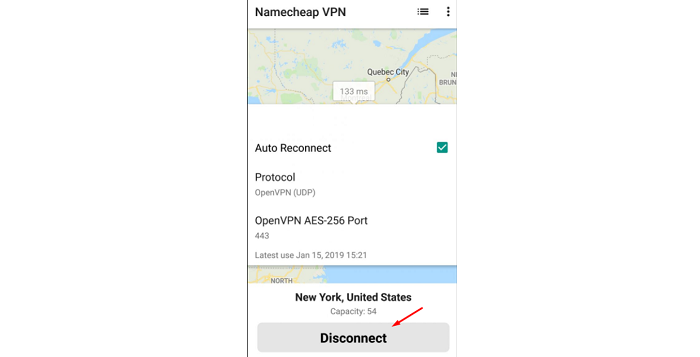 If the start button shows up as "Disconnect", then the application is connected to a selected server. Remember, if the servers are down, then you cannot access the internet until or unless you disconnect it.
Bottom Line
NameCheap desktop program has sworn to protect the users, even, when the server is not responding. Let us know your NameCheap VPN experience in the comment section below.