YouStable is a web hosting company offering web spaces for websites at affordable prices. The company also encourages affiliates link to promote the brand and earn a decent income. Our company has the highest sale commission percentage and minimum $5 payout.
Affiliate Links and Banners
Our company is a digital marketing agency as well, and we understand that every affiliate needs banners, text links, and attractive advertisements to promote and sell to customers. We have created a wide range of advertisements, and it works smoothly on HTML based websites and WordPress sites. The codes work smoothly on every Content Management Systems, so do not worry about compatibility.
Where to find Affiliate Links and Banners?
Fortunately, our company enables the affiliate program on regular accounts as well, so this method works on every account created on YouStable official site.
Step 1: Go to the official site and click on Login.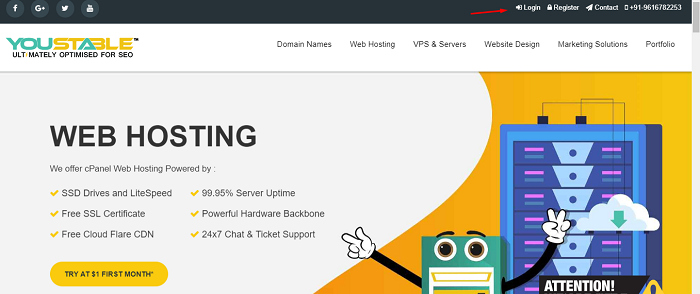 Step 2: Enter the correct account login details such as username and password, then hit "Login."

Step 3: In the main menu, you can find the "affiliate" option and click on it to proceed further.

Step 4: The next page shows up on the screen with the text affiliate link.

Step 5: If you scroll down a little, then you can find a huge list of banners with the unique affiliate link.

Now, copy the links and paste them on your HTML, HTML5 and CMS sites.
Bottom Line
YouStable offers highest sale commission in the web hosting industry today, and we pay out the affiliate with a minimum of $5 in earnings. Contact the 24/7 customer support team for further information and support.