Hotlink Protection is a feature available in the cPanel control panel, and only a few professional uses it. Millions of people using cPanel are not aware of the feature potential and the kind of protective layer it adds to the web hosting bandwidth.
What is Hotlink Protection?
Million of website users post links coming from other sites such as Embed Video, Audio, Images, Podcasts, iFrames, and more. These sources may be trusted and may not trust, so the extra protection layers to monitor consumption of hosting account bandwidth. A normal website may not have to worry about it, but a heavy site with loads of Hotlinking hits the limit.
Once a web hosting account hits the limit, then they are subjected to get charged for the additional bandwidth or resources used in it.
Enable Hotlink Protection
Fortunately, YouStable web hosting packages integrated with cPanel control panel and we are going to use it to enable the Hotlink Protection.
Step 1: Login to the control panel using correct credentials and check for YouStable email that has cPanel credentials in the registered email address.

Step 2: Type "Hotlink Protection" in the search bar, and then click on "Hotlink Protection" below.

Step 3: Click on the "enable" button, and you can check the status as well.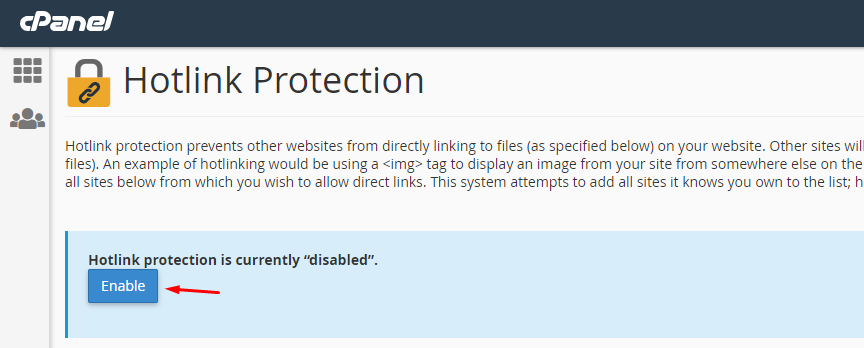 Step 4: Scroll down a little; you can find the list of domains to configure.

Step 5: You can block direct access to the specific file formats.

The rest of the functions are optional.
Conclusion
The Hotlink Protection features a lot of resources such as server bandwidth that will keep users away from extra charges.