YouStable offers a free SSL certificate to new customers and existing customers, and we also activate it after a few hours of the account activation. However, in some cases, if you have purchased an SSL certificate from a third-party company, then you can seek support from us, or you can do it yourself.
YouStable offers cPanel as a control panel so that the users can create, edit, and organize the site using popular CP for day-to-day usage.
Step 1: Log in to your cPanel account, and then type "SSL" in the search bar. Click on "SSL/TLS," and it will take you to the next page.

Step 2: Scroll down, and at the bottom, click on "Manage SSL Sites."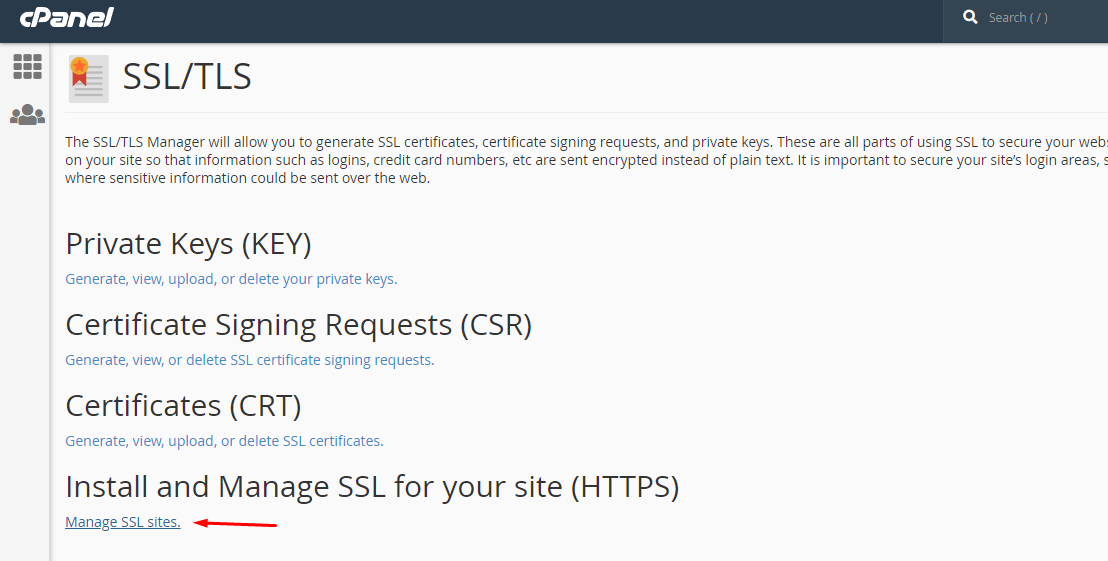 Step 3: Scroll down, and click on "Select a domain," if you have multiple domains, then you can add an SSL certificate to a specific domain.

Step 4: The SSL certificate provides the users with CRT data so copy and paste it in the empty field.

Step 5: The Private Key can be found in the email sent by the SSL provider, or you can find it on the dashboard.

Step 6: Find the Certificate Authority Bundle from the dashboard of the SLL certificate provides.

Step 6: Click on "Install Certificate" to begin the process.
Note: YouStable offers a free SSL certificate, and if you want to remove the free SSL protection from the current domain, then click on "uninstall" on the same page as explained above.

YouStable web hosting dedicated customer care can assist you in re-installing the free protection. Here you can also find the private key for SSL Certificate.