cPanel is a tool that makes it easy for hostmasters or users to take control of various aspects of their Hosting service from an easy-to-use Control Panel. cPanel is very intuitive to use, and it is used all over the globe.
You can do maintenance, control SSL, create emails, and subdomains can also be done using cPanel. This web-based Graphical User Interface (GUI) helps you do maintenance and various tasks in your Hosting. Today we will discuss how to fix the issue of High Physical Memory Usage in cPanel.
What is physical memory usage in cPanel?
Every aspect of your Hosting service, like Themes and PHP, costumes and uses some resources. CPU power and RAM allocation happen behind the curtains to keep your website running.
Every service you run uses a bit of a resource. When you exceed a threshold amount of RAM allocation, you end up with an error. Error codes 500, 508, and 503 represent this error. This results in a slowdown of the Website, and the users have a bad experience.
Also Read: SSD Dedicated Server Vs HDD Dedicated Server
Hosting Plans
Before we discuss how to fix High Physical Memory usage in cPanel, we need to know about various Hosting Plans. Hosting plans come in multiple tiers, and they decide what your experience would be like. There are mostly three types of Hosting, and we have discussed them below-
Shared Hosting
Shared Hosting is exactly what it sounds like. It is a shared service. When you opt for a Shared plan, you share the resources such as CPU, disk space, and memory with various other users on the same server. Hence, you have limited bandwidth on your website and are not very customizable.
VPS Hosting
VPS is short for Virtual Private Server. VPS services mimic the perks of Dedicated Servers as your environment is isolated.
Also, with VPS, you get various customization features and more fine-tuning options. A server is also shared in this case, but your share is always allocated to you.
Dedicated Hosting
A Dedicated Server is like having your own hardware. In this case, a whole server serves you. The customizability performance is generally higher than other services.
Also Read: How To Choose The Best WordPress Hosting
How to access physical memory usage in cPanel?
If you maintain a website, it is important to monitor various aspects. Regularly monitoring your memory usage is also quite important.
This can be accessed through the cPanel itself. Although the process is a bit different depending on the hosting provider you use. These steps are as follows-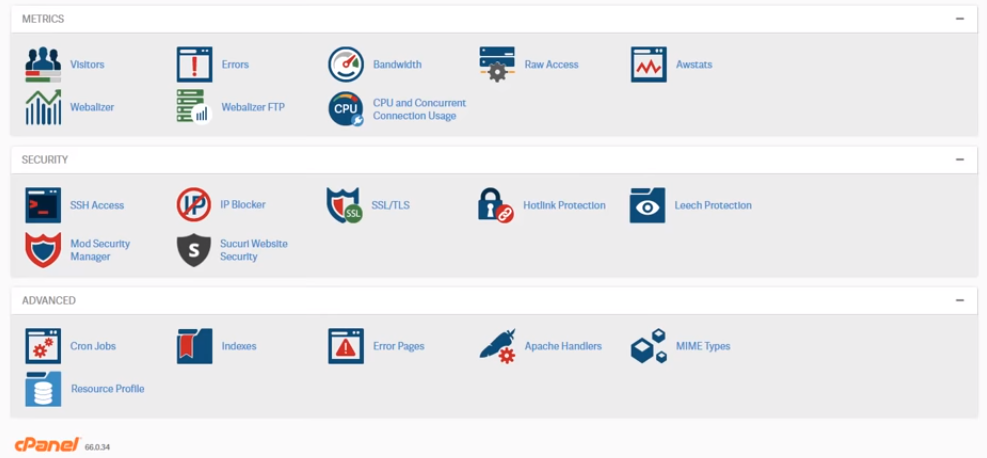 First log in and open your cPanel
Scroll Down and go to the Metrics section.
Now click on Resource Usage.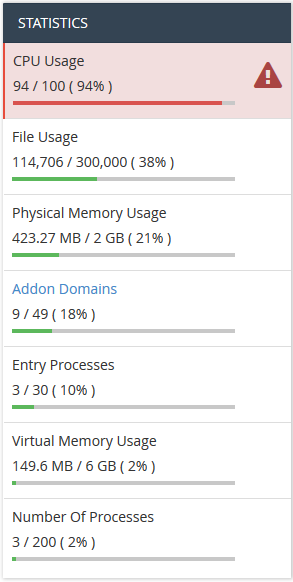 Click on Details and check the Resource Usage information for your account.
Also Read: How to Fix the Error too Many Redirects on WordPress cPanel
Causes of high physical memory usage in cPanel
Various reasons can cause increased memory usage. Memory usage can be gradual, or it can be a sudden surge. The reason for this comes down to a couple of reasons-
Increased Visitor Count
Themes or Plugins
More than usual Entry processes
Malware Presence
Also Read: How to increase file upload size in cPanel

How to fix high physical memory usage in cPanel?
Whenever you notice a surge in Memory usage, it is pretty important to fix that. If it is not fixed quickly, it will start to harm your Websites performance. Your website might load slowly and might not perform very well.
Like every other problem, the first step in solving this problem is identifying its cause. We have mentioned various steps that should help you fix this.
Check for Uptick:
When you check your visitor data or visitor count, if you see the viewer count is consistently up or growing up day-to-day, it might be because your site is getting popular.
In this case, it would be wise to invest in a better plan. You can upgrade to Shared Hosting with more performance, or you could opt for VPS Hosting or even Dedicated Hosting.
Check Plugins:
Plugins can also be RAM hungry and can eat up your RAM. Some badly optimized Plugins can cause this issue, especially if they are third-party and the developer isn't very reputed. This happens because these plugins are not that tested or optimized.
So, disable all the plugins and enable them one by one to see which one or which ones are causing this issue. Themes are also notorious for this issue.
Update Applications:
If the Plugins are causing this issue but didn't before, you can try updating to their latest versions as they are configured more for the current times.
Updating them is quite easy. Sometimes they only take a click or two. So, update Plugins, Applications, Themes, and what you can to the latest version to fix your issues.
Optimize your Site:
Optimizing the website to get the best out of it is essential. There are various ways to Optimize a site. You can add Caches to decrease bandwidth and resource use. Also, scale images properly, so not very much bandwidth is required.
Another way to do this is by writing efficient code. When the CSS and various scripts on the site are minimal and compact, it is efficient and uses fewer resources to execute the same task.
Problem with Updates:
If you have updated the website recently and are having these problems, the reason could be that something was wrong with the update. So it would be a wise idea to roll back to the previous version with a backup and figure out the problem later.
Summary
This issue is quite serious as High Physical memory usage can harm the performance of your website. Throughout this article, we discussed various methods to solve the high Physical Memory Usage in cPanel. We shared the probable reasons behind it and also shared potential solutions.
Therefore, it could also harm your SEO results if your website is not fixed quickly. I hope you find this article helpful and this makes you decide how you could solve this problem.