Are you running an e-business and want to offer a safe, sound, and secure atmosphere to your clients visiting your website?
Getting an SSL certificate can provide assurance to your customers regarding the level of safety and security they will be getting while surfing.
So in this article, you will be acquiring comprehensive detail about How to Install SSL on a Subdomain via cPanel.  And exclusively for our readers, we have provided stepwise instructions on how to add an SSL certificate to a subdomain via CloudFare for absolutely no cost required to be incurred.
So with a lot to discuss, let's start off with a small brief about SSL certificates.
What is an SSL certificate?
An SSL (Secure Socket Layer) certificate is like an online Identity card that gives customers assurance about the authenticity of the website so that they feel safe while transacting from your online store.
The SSL certificate, providing assurance to the shoppers, can be purchased by a web hosting company.
In short SSL certificates not only offers identity confirmation to the website but also codify the information that transfers to and fro the website keeping it safe from online hackers, who try illegally peeping into your client's sensitive information.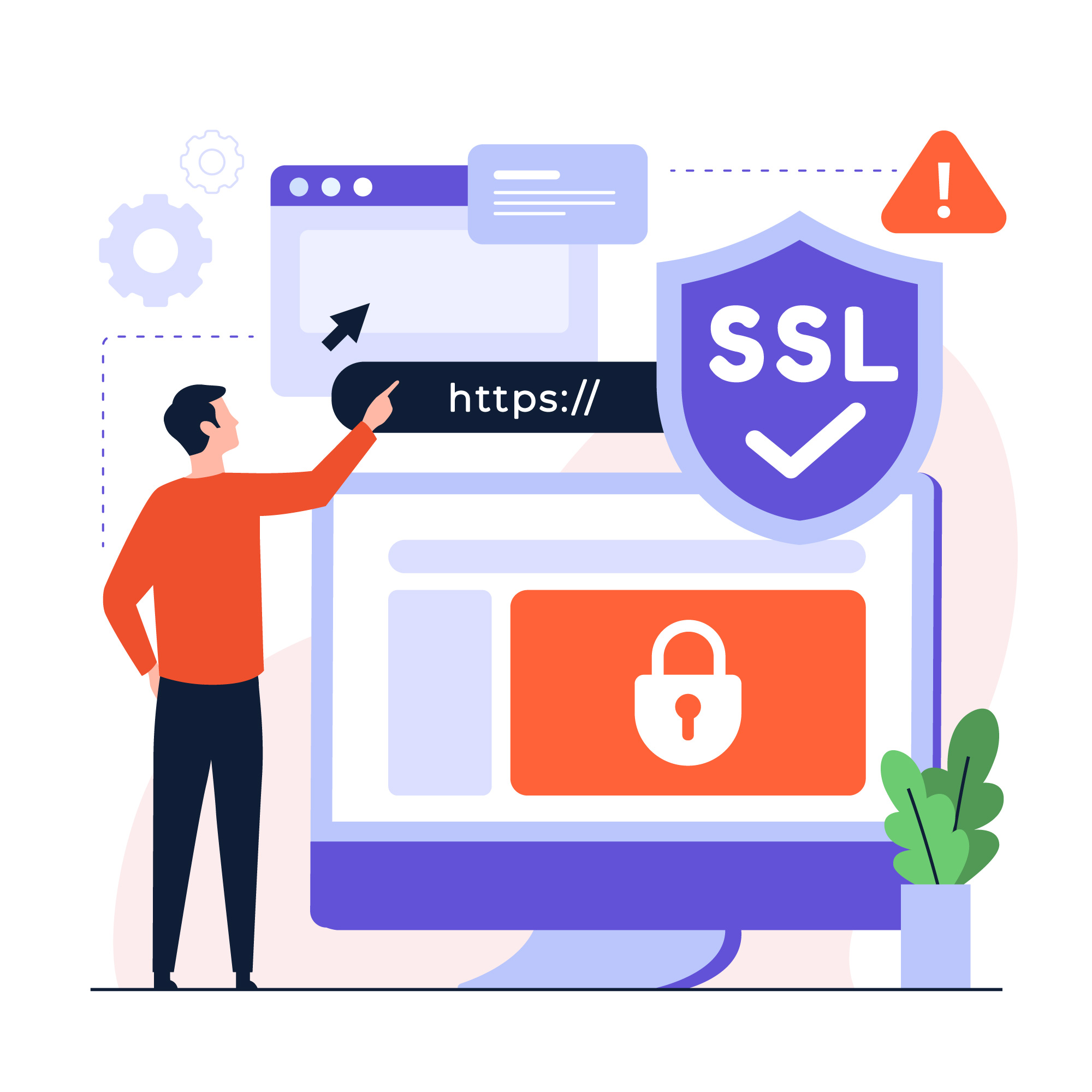 With that being said, let's now know why we require an SSL certificate.
Why do you need an SSL certificate for your subdomain?
Though the internet can be extremely useful for you as you can procure products and make information related to a certain field available to your clients all over the world, yet there are some hackers on the loose that are always ready to rob valuable details of your clients pertaining to credit card number, internet banking password and a lot more.
Due to this, your clients won't feel safe surfing your website thereby reducing the number of clicks in your website.
The only solution to the issue stated above is getting an SSL certificate to make the clients feel secure when they surf your website.
~ Helps secure various data pertaining to your clients 
~ Provides a grade of authenticity to your website
~ Ensure a secure connection between your website and the customer transferring data in an encrypted format.
How does an SSL certificate work?
A safe connection begins with something called an SSL handshake in which both the communicating ends establish a secure line.
So what is an SSL handshake?
In a nutshell, in SSL handshake both ends(the user and the website owner) use two different keys to encode and decode all the information transferred to and fro on both ends of the communication.
For user's suitability let's know What are these keys used during SSL handshake?
In short, the data is encrypted using a public key whereas the data is decrypted with the help of a private key, which is kept secret on the server's side.
The private key is kept concealed from anyone apart from the sender and receiver of the data and on the other hand the public key is free.
So to sum up, in a SSL handshake the server and the client use a public key and a private key to exchange the data enabling to provide a secure environment for the user.
It ensures that the company on the server side that the customer is trying to reach is genuine, further ensuring that the data has not been manipulated.
After you purchase an SSL certificate, your customer's computer connects to your website, looks at the SSL certificate, and verifies your website identity with the certificate authority.
If everything works out well, the customer's computer forms an encrypted connection.
On a successful purchase of an SSL certificate for your website, a customer's icon may display a small icon shaped like a lock, blue thumbs up, or a green bar, when he makes an effort to get access to your website.
How to Get an SSL Certificate?
You can easily get an SSL certificate from a certificate-authorized (CA) company. It is a third-party organization that gives SSL certificates on your subdomains as well.  
The (CA) will sign the certificates with their key. It is necessary for a third party to provide SSL to the subdomains or else the certificates won't be considered trustworthy.
Since having an SSL Certificate makes your subdomains legitimate, you'll definitely be keenly interested to know how we can install an SSL certificate. So read further, to find out about it.
How to install SSL on a subdomain via DirectAdmin? Step-by-step guide
Let's see how we can successfully install an SSL certificate for our subdomain via cPanel.
For this, you will first logging into youstable account, where you'll enter your login credentials to login to your account.
After logging in, choose your hosting service to click your domain name (youstable.icu)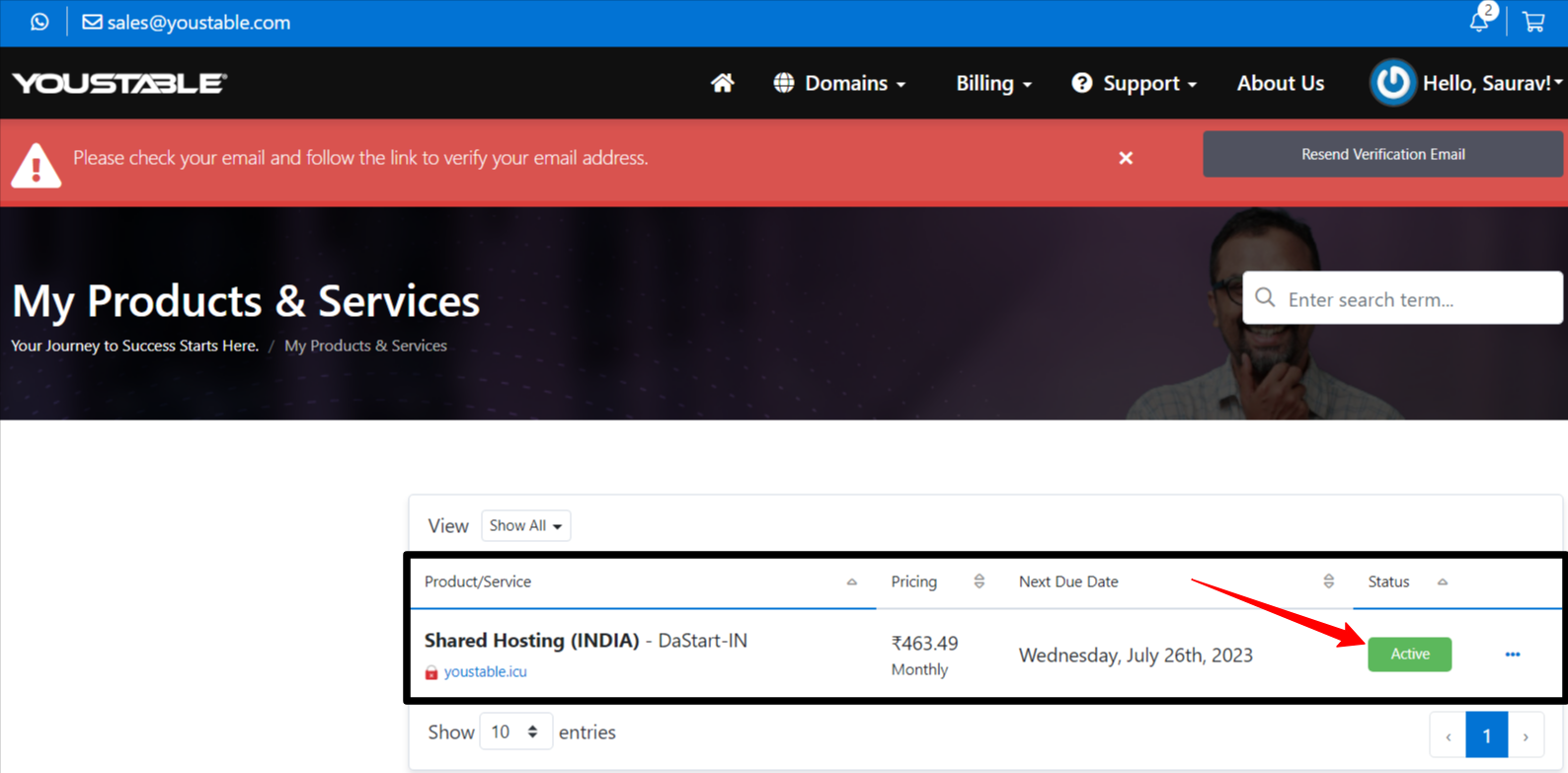 Scroll down to press the DirectAdmin option.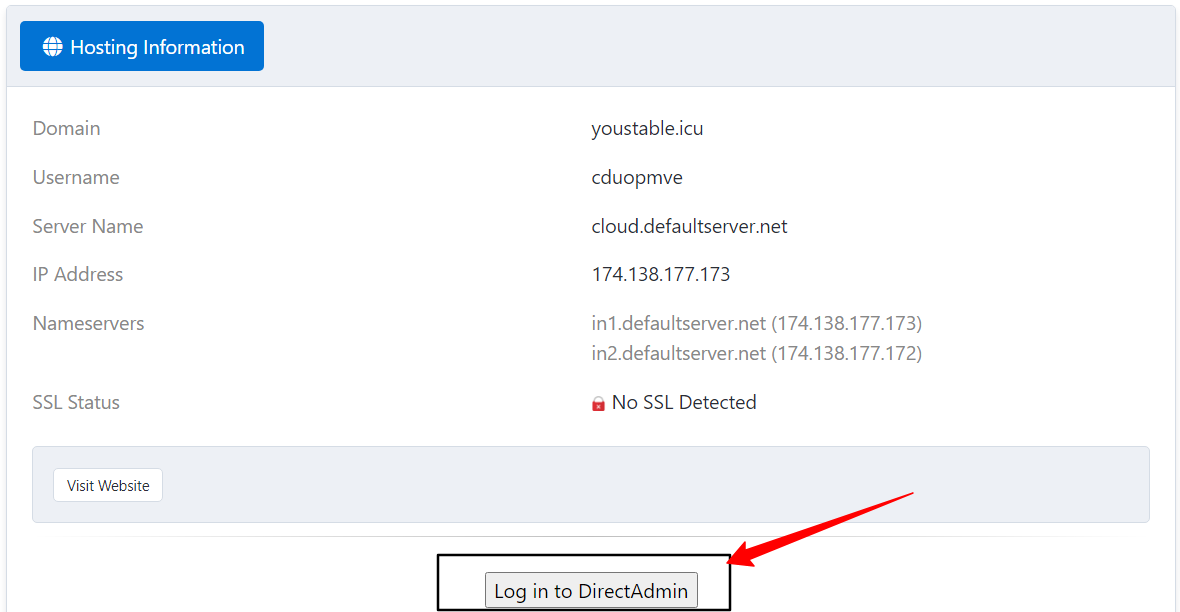 On clicking the DirectAdmin option, click the SubDomain caption provided under the Account Manager tab.

Press +Add SubDomain to create a new subdomain on your website.

The New Subdomain Window is displayed where you are required to:

Enter a new SubDomain
Tap the default option under the document root
Then click Add Subdomain.
On clicking the ADD SUBDOMAIN option, your subdomain is finally created.
You can see your subdomain under the Subdomain Setup tab.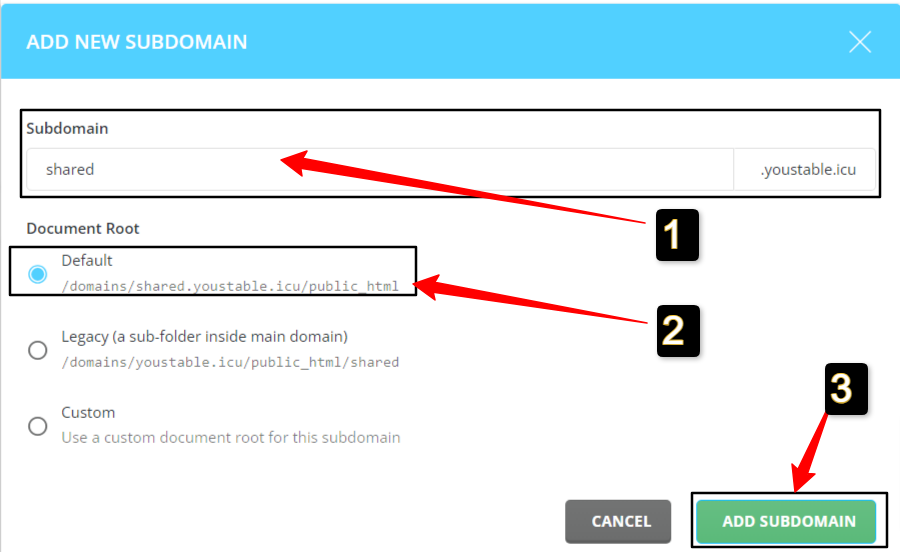 Now again go to DirectAdmin and click the SSL Certificate option under the Account Manager tab.

On clicking the SSL Certificate option:

Tap the Get an automatic certificate from ACME Provider
Tap the Certificate Entries
Lastly, Click the Save option.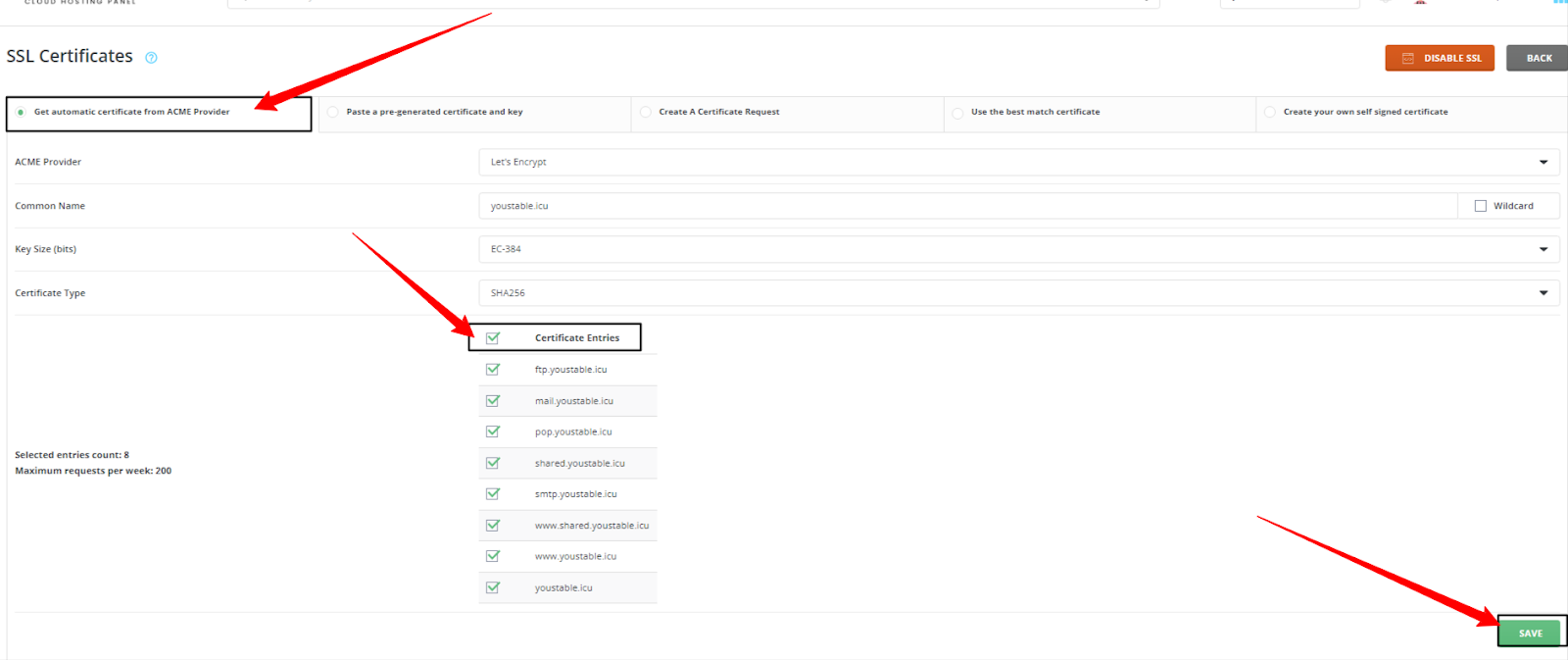 After clicking the Save option, it takes about an hour or so to get an SSL certificate on your subdomain. 
Finally, as the SSL certificate is installed on your subdomain, a padlock icon or an https:// appears before your URL ensuring the security of the user's data while they surf in your website.

Besides purchasing SSL certificates for your websites from a third party, you can also get your SSL certificate ADDED to your subdomains via CloudFlare for absolutely no cost to be incurred. Let's read further to know more about it.
How to Add Free SSL Certificate To Subdomain via CloudFlare
Via Cloudflare, you can get a free SSL certificate for your SubDomains. In order to add a Free SSL certificate to your subdomain you need to adopt the stepwise process stated as under.
Go to the cPanel of your Web Hosting Service to create a subdomain first. 
The steps to add the subdomain have already been discussed in the above topics.
You can go and check that out first before you can proceed with the further steps to Add SSL certificates successfully.
Open the subdomain createdOpen the subdomain created in a different tab and you can see that the site can't be reached owing to insecure connection.

Go to Cloudflare and log in to your account. If you do not have an account with Cloudflare then you can easily create one by clicking the signup Option provided below the Login area.

As soon as you log in to your account > click the +ADD SITE tab provided at the top corner of the display

On clicking the ADD SITE option > Enter your Site in which you have created your SubDomain to Get SSL certificate Installed > on entering the Site name, click the ADD SITE option to proceed further.

Now click the DNS > Record option provided at the left corner of the screen in the menu bar

Click + ADD RECORD option and type the name of your subdomain
Enter the IP Address of your Domain
Finally, click the save option.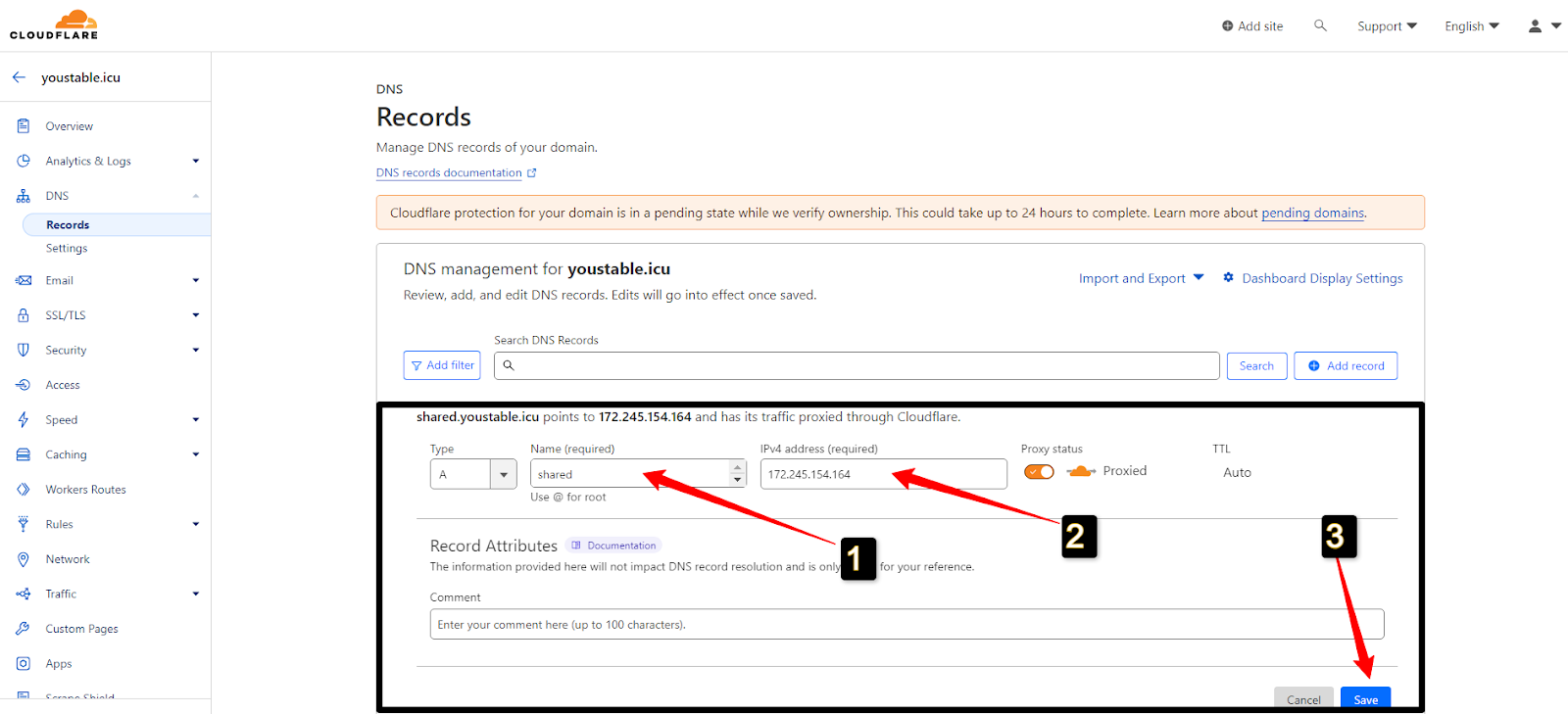 After doing the above necessary configuration, it takes around an hour or so to get the SSL Certificate updated in your subdomain.

So we see how we can easily get an SSL certificate installed on our subdomain via CloudFlare absolutely free of charge.
FAQs: Install SSL on a Subdomain
We have also brought to you a list of important questions that you normally have regarding the installation of SSL to which you want a guided response.
Here are some of the issues that users are found asking:
Why does SSL not work on subdomains?
SSL protects only the main domain. You can't use the same SSL certificate to secure the subdomains. For subdomains, you are required to have different SSL certificates.
For example, if you get SSL for youstable.icu then you can't use it for shared.youstable.icu
Can I use SSL certificates on multiple subdomains?
Yes, you can use SSL certificates on your multiple subdomains to ensure your clients that their data is secured from online fraud.
That not only gives you an upper hand among your clients but also clients feel safe browsing every corner of your website.
How do I enable SSL for my URL?
In order to enable https:// for your URL, you need to follow the stated steps. They are as follows.
Purchase, Request and Install the SSL certificate from a trusted certificate authority(Youstable).
Wait for a few minutes to get updated 
Redirect your clients from http:// to https:// form of your website
You'll be able to see a padlock before the start of your URL
Finally, SSL gets enabled for your URL.
Conclusion: Install SSL on a Subdomain
In this article, we have comprehensively discussed SSL certificates and How to Install SSL on a Subdomain in YouStable and Add SSL to your subdomain for free via Cloudflare, to make your subdomains secure from online threats and give your clients a safe ground to carry out business transactions or access information thereby proving your identification as well.
To conclude, we will be happier and more motivated than before to make such articles for your use. Try reaching us out at [email protected] in case you run into any complication related to SSL.